Flat Tire Repair Kit Deming NM
Local resource for flat tire repair kits in Deming, NM. Includes detailed information on local auto service providers that give access to tire repair kits, tire repair plugging kits, tire puncture repair plugs, tire sealant, air compressors, tire gauges, tire inflators, and tire tackle kits, as well as additional advice and content on fixing punctured tires.
---
Tinley Tee Tire
(575) 546-0463
2020 S Columbus Rd
Deming, NM
Services
Government Sales Deliveries,Participates In Goodyear National Promotions,Services National Account Customers


Tinley-Tee Tire Company
2020 Columbus Road, S.W.
Deming, NM
Hours
Monday-Friday: 8:00 am - 5:30 pm Saturday: 8:00 am - 2:00 pm Sunday: Closed


Budget Tire
(575) 546-9857
101 W Pine St
Deming, NM
Hours
Monday - Friday: 8:00AM-6:00PM, Saturday: 8:00AM-1:00PM,


Budget Tire Store Sanchez Inc
(505) 546-9857
101 W Pine St
Deming, NM
Services
Car Washes, Car Detailing, Tire Shops


Big O Tires
(505) 544-2446
1715 E Pine St
Deming, NM
Services
Car Washes, Car Detailing, Tire Shops


Wal-Mart Store 5166
(505) 546-6045
1021 East Pine Street
Deming, NM
C & C Tire and Auto Center
(505) 546-2573
403 E Pine St
Deming, NM
Services
Car Washes, Car Detailing, Tire Shops


Separ Emergency Road Service
(505) 544-2098
Interstate 10 Exit 4
Deming, NM
Services
Car Washes, Car Detailing, Tire Shops


Wal-Mart
(575) 546-6045
1021 E Pine St
Deming, NM
Hours
Monday - Friday: 7:00AM-7:00PM, Saturday: 7:00AM-7:00PM, Sunday: 9:00AM-6:00PM,


Byrds R & M Repairs & Towing
(575) 993-5626
7850 N Frontage Rd
Las Cruces, NM
Hours
Monday 8:00 AM - 5:00 PM
Tuesday 8:00 AM - 5:00 PM
Wednesday 8:00 AM - 5:00 PM
Thursday 8:00 AM - 5:00 PM
Friday 8:00 AM - 5:00 PM
Saturday Closed
Sunday Closed
Memberships and Certifications
Certifications : ACDelco, ASE
Services
Air Conditioning/Heating, Alignment, Alternator, Battery, Belts & Hoses, Catalytic Converter, Clutch Cylinder, Cooling System, Diagnostics, Drive Belt, Electrical System, Exhaust Systems, Filters & Fluids, Fuel Injector, Fuel Pump, Fuel System, Head Gasket, Headlight/Headlamp, High Performance Service, Ignition, Inspection, Muffler, Oil Pan, Oil Pump, Oxygen Sensor, Parts, Radiator, Restoration Service, Shocks & Struts, Spark Plugs, Starter, Thermostat, Timing Belt, Tune-Up, Water Pump, Window M
Service Types and Repair
Acura, Aston Martin, Audi, Auto Clutch, Auto Drivetrain, Auto Engine, Auto Interior, Auto, Bentley, BMW, Buick, Cadillac, Chevrolet, Chrysler, Classic Car, Diesel Engine, Dodge, Emergency Auto, Exotic Car, Fiat, Ford, GMC, Harley Davidson, Honda, Hyundai, Infiniti, Isuzu, Jaguar, Jeep, Kia, Land Rover, Lexus, Lincoln, Lotus, Mazda, Mercedes Benz, Mitsubishi, Motorcycle/ATV, Nissan, Oldsmobile, Pontiac, Porsche, RV/Bus, Saab, Saturn, Small Engine, Subaru, Suzuki, Toyota, Truck, Volkswagen, Volvo


Flight of the Incorrigible: Roadside Assistance!
By Christopher Jackson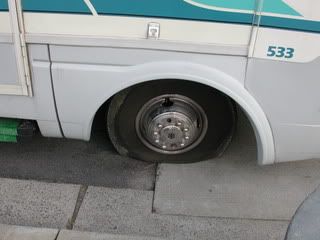 "If it ain't broke, don't fix it," the old saying goes. Well, the converse is true, too. The Incorrigible was delivered with a set of aftermarket wheel covers that looked nice from fifty feet away, but didn't fit quite right. I noticed before we left Michigan that one of the rear wheel covers actually blocked the tires' valve stems, so I pulled it off. Both of the front covers were hard up against the valve stems of their respective tires, and I worried that they might damage them, but didn't bother to take them off, 'cuz then the Incorrigible's ugly steel feet would be stickin' out.
Serves me right, perhaps, that one of those wheel covers managed to break a valve stem while I was topping up the tires at a truck stop. It crimped it and the thing twisted right off.
With the valve stem broken off, it takes an RV tire a full sixty seconds to deflate completely. This process is accompanied by an ear-splitting hiss that's audible all across the parking lot, causing people to turn and stare as they try to figure out what the idiot in the motorhome did. Lexie stuck her head out the window and asked what was going on, and I explained to her.
Unfortunately, changing a tire on a motorhome isn't anything like changing a tire on a car.  Well, the mechanics are the same--it's the weights and measures that make the difference.  An RV tire and wheel can weigh more than a full-grown man, and as for jacking the thing up...well, it's hard enough to get a 3000-pound car safely raised by the side of the road.  When the ante is upped to almost 18,000 pounds, it's just not worth it.  Large Class A diesels can easily top 40,000 pounds, so unless you're carrying a fifty-ton jack, there's not much point in even attempting to fix a flat yourself.
RV owners will debate at great length the merits of carrying a spare tire at all.  Many coaches don't have them.  The pro-spare people cite the difficulty that can often be had in trying to find a replacement tire in a remote location, and the security of knowing that roadside assistance can get them going right away.  The folks who don't want to carry spares point out that it's a lot of additional weight that may never get used, and who cares if you have to spend a few hours (or even a day or two) waiting for a tire to be backordered?  It's not like you don't have the comforts of home!  
For our part, the Incorrigible had a spare tire...
Click here to read the rest of this article from DECISIVE Media